11.02.2021
Port of Gdansk strikes new 'Black Sea to the Baltic' trade route deal with Ukraine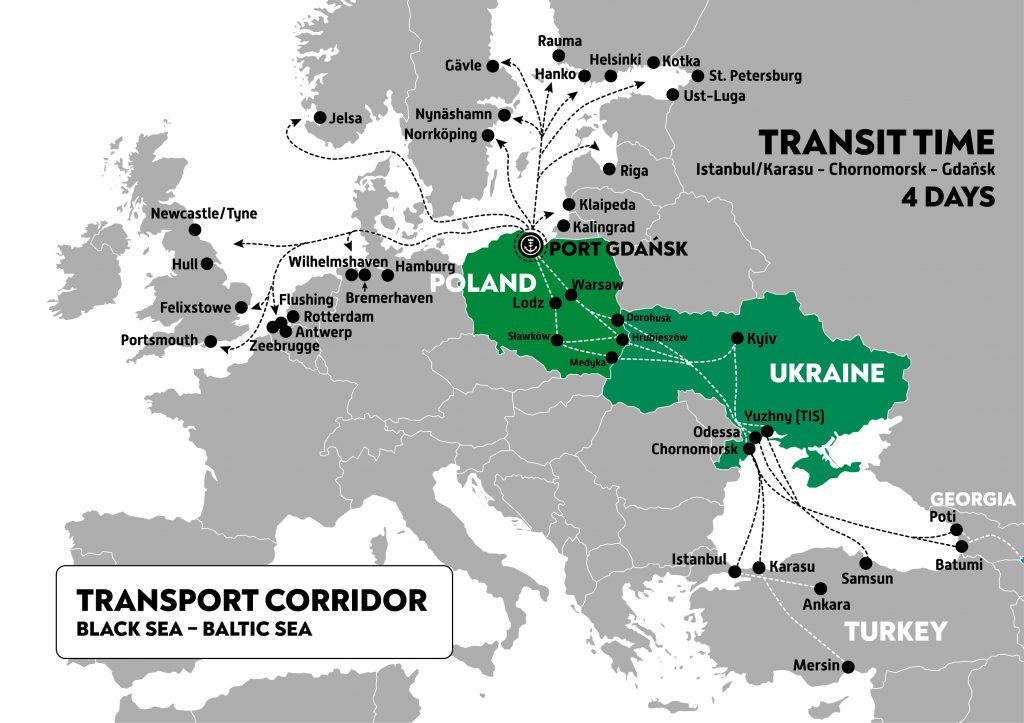 Poland's biggest port, the Port of Gdansk, closely cooperates with the Ukrainian Sea Ports Authority to open up a new alternative transport corridor between the Black Sea and the Baltic. Details of the agreement are being formally unveiled after the MoU was set up during an official visit to Ukraine by the Polish President Andrzej Duda in October 2020.
Port of Gdansk President Łukasz Greinke said a working group has been established to promote the new 'Black Sea to the Baltic' route with a focus on transporting container cargo by rail between Gdansk and primarily Odessa, Ukraine's biggest port.
He confirmed the planned train route is: Port Gdańsk – Warsaw – (Terminal Sławków – Hrubieszów) – Dorohusk or Medyka – Kyiv – Ukrainian ports (Odessa, Czernomorsk, Yuzhnyj). He said the aim initially is to run the service once a week with a train departing from Gdansk to Ukraine with a separate service departing weekly from Ukrainian ports to Gdansk.
"We have two prime objectives with the new 'Black Sea to the Baltic' intermodal corridor," he said. "First, we want to provide an alternative route to Western Europe for trade coming from major inland Chinese cities like Xian along the Silk Road through Kazakhstan over the Caspian Sea to Azerbaijan and Georgia and over the Black Sea to Ukraine. Second, we want to offer a new route for Ukrainian and Turkish companies wanting to transport cargo, such as ro-ro, to Central and Western Europe and on to Scandinavia via Gdansk. We are already speaking with Turkish ship owners and freight forwarders about the benefits of the new corridor in terms of speed and efficiency. We see this new route as an exciting element of our plans to grow tonnage through the port to 50million tonnes in 2021 rising to 60million in five years."
The Port of Gdansk is one of Europe's fastest-growing ports and this year broke into the top 20 biggest ports on the continent despite the disruption to international trade caused by the coronavirus crisis.