10.02.2021
Experts in XXL assignments develop their business at the Port of Gdańsk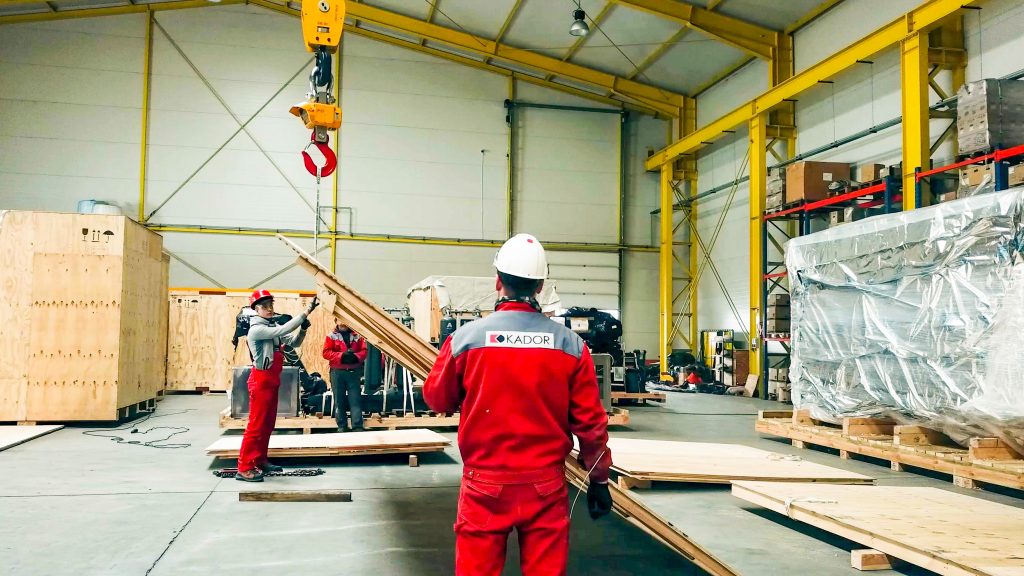 Planes, boats, turbines or components of wind farms – these are the loads the transport of which requires special pre-arrangements, with all loose ends in logistics tied up. Until recently, bulky goods from the south of Poland had been transported through the ports of Western Europe. Now, increasing volumes of such goods are taken over and flow through the port in Gdańsk. This would not be possible if not for the XXL cargo experts from KADOR.
"In fact, there has never been a company at any Polish port with such a wide service portfolio when it comes to preparing goods for transshipment and maritime transport. KADOR is a family-owned, Polish company with 40 years of experience in packing and transport operations around the world", says Anna Drozd, spokesperson for the Port of Gdańsk.
Solid export packaging is essential for transport by sea. It is not only meant to protect the content against mechanical damage, but also against adverse weather conditions, such as high humidity, salinity of the atmosphere, frequent lack of air circulation or daily temperature fluctuations. If we are dealing with dimensions that are significantly different from container dimensions, why not consider mounting the devices directly in the port area? With appropriate infrastructure it is possible to carry out assembly work and final acceptance procedures in the presence of the customer near the ship's point of departure. As a result, the process is optimised in terms of economics, transloading operations are limited and the risk of damage during road transport accompanying such operations is reduced to a minimum.
Dorian Łebzuch, KADOR CEO: "One of our most recent interesting projects consisted of dismantling a windscreen production line in Switzerland. We provided an end-to-end service: from the organisation of transport, through packing and adaptation to sea transport requirements, shipment to and unloading in Peru, to reassembling the line for re-commissioning."
Thus far, bulky goods from the south of Poland have been transported through the ports of Western Europe, where packing companies are located. Thanks to the KADOR plant, which was launched directly in the Port of Gdańsk in 2019, more and more cargo of this type is taken over and flows through the Polish port.
"A port is a self-regulating system. On one hand, we have companies that handle maritime transshipment operations. On the other hand, we also have businesses that provide a number of additional services, which actually complement our offer. Such services are crucial – both for the operation of the port and for our contractors. KADOR has been present in the Port of Gdańsk since 2019. We are very happy to have them here, because they make the appeal of our port comprehensive", admits Anna Drozd.
As the hall is located in the immediate vicinity of the largest Polish transshipment terminal – DCT Gdańsk – it is possible to react quickly to emergencies at ports and directly contact the shipowners or the terminal itself. Currently, the KADOR plant is being expanded and a new hall will soon be put to use.
"This investment project paves the way for handling even larger loads meant for intercontinental transport. At the hall in Gdańsk, we have decided to make use of very high, 18-metre structures, which will let us lift elements with mobile equipment, so any limitations will practically cease to exist", reveals Dorian Łebzuch.
The new hall capacity will be as big as 30,000 m3. Its dimensions will also allow the assembly of large-size elements. The plant will be connected to the terminal by internal roads, significantly simplifying the passage of vehicles with oversize loads from the packing site to the wharf.
Media contact:
Anna Drozd
Press Spokesperson at the Port of Gdańsk
anna.drozd@portgdansk.pl
(+48) 727 064 605