21.11.2022
Port of Gdańsk at the 9th International Transport and Logistics Fair in Warsaw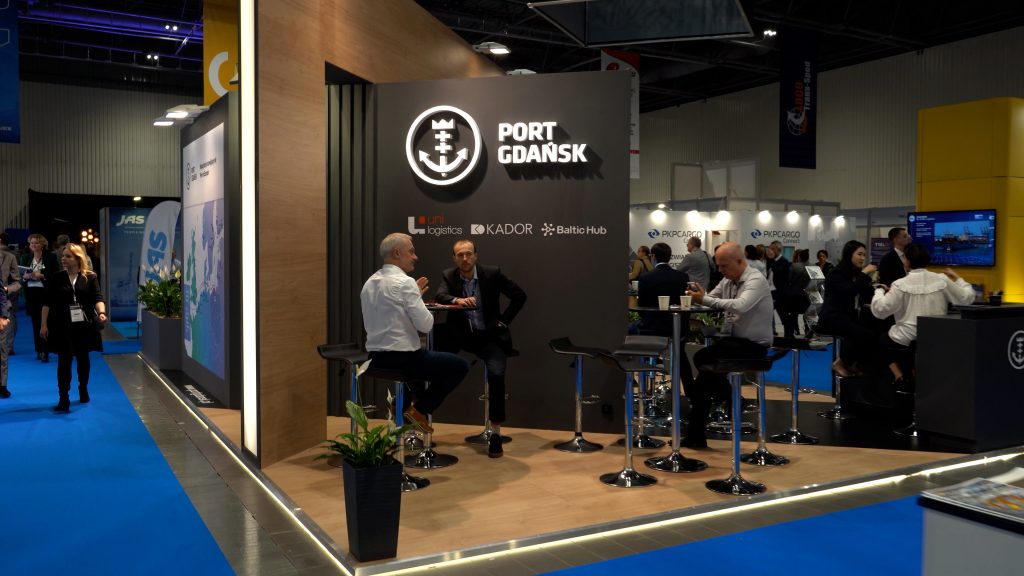 The 9th edition of Poland's and Central and Eastern Europe's largest transport and logistics trade fair was held between 7 and 9 November. Around 300 exhibitors and 10,000 participants took part. The Port of Gdańsk also had its stand in the EXPO XXI hall.
TransLogistica Poland is the most important business event for everyone professionally involved in the TSL industry. Every year, the organisers offer participants a series of meetings in the form of discussion panels and debates. This year, the subject matter of the fair was expanded to include new issues, such as electromobility in the TSL sector. The event was also accompanied by the TSL TransLogistica Jobs Fair.
The stand of the Port of Gdańsk attracted many visitors. Together with port representatives, companies operating on the port's premises, namely Baltic Hub, Kador and Uni Logistics, also presented their commercial offer.
'The port and its business partners form a self-regulating system, because they must complement each other, including in terms of investment projects. They not only increase the cargo handling potential of our operators, but also have an impact on the competitiveness of the entire port', says Michał Stupak, customer manager at the Port of Gdańsk Authority S.A. 'Our common goal is to look for new areas of activity. This applies both to the port support infrastructure in the form of road, rail and freight forwarders, but also to the port facilities, where we are dealing with shipowners of containers, ferries and transporting other cargo coming into the port.'
An important aspect of this year's fair was international cooperation. Brigitte Zhang, a representative of the Port of Gdańsk in China, spoke about investment and trade between China and Central and Eastern Europe during one of the panels. She conducted a presentation entitled 'Port of Gdansk – the gateway between China and Central Eastern Europe in the Belt and Road'.
'Existing since 2018, the Port of Gdansk's office in Shanghai serves as a platform to help develop business in China. We also help the port with branding, as well as finding customers and business partners. This allows Chinese companies to get to know the Polish market better. Therefore, we aim to promote the Port of Gdańsk at similar conferences and fairs in the port, shipping and logistics sector, which are also held in China. We also provide consulting services, for example in the field of sourcing and data statistics, creating a platform of relations for both Polish and Chinese business partners', explains Brigitte Zhang.
Contact for the media:
Anna Drozd – spokesperson for the Port of Gdańsk
e-mail: anna.drozd@portgdansk.pl
tel: (+48) 727 064 605