04.05.2022
Port Gdańsk takes part in the 14th European Economic Congress in Katowice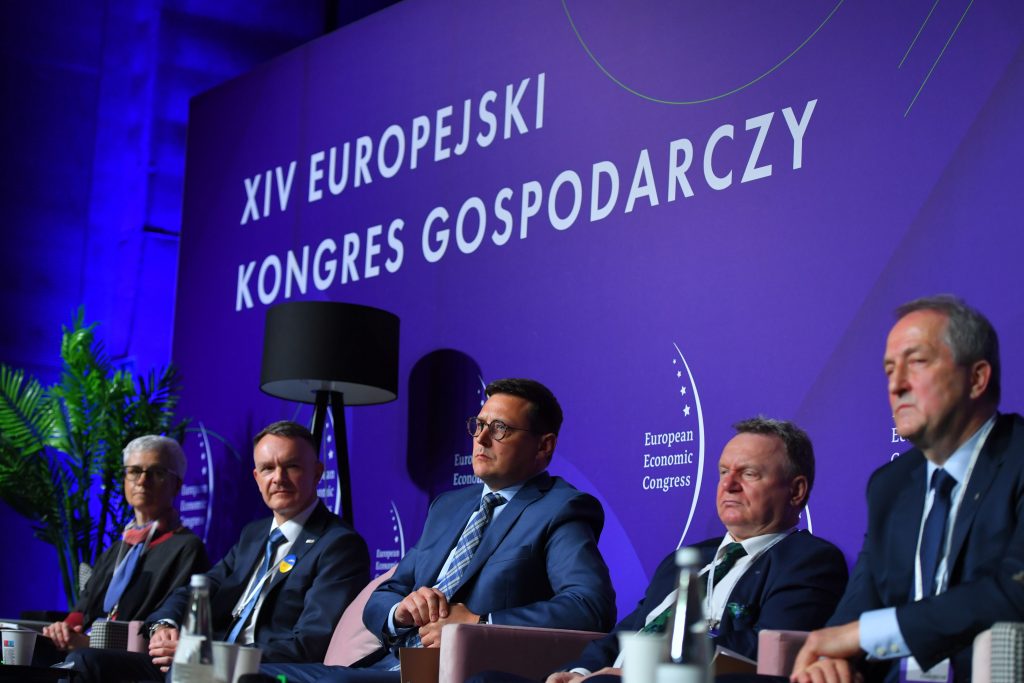 The European Economic Congress is the prime business event in Central Europe, a three-day series of 150 debates and side meetings and events attended by major personages from the world of politics, business, science, economy and local governance. Port Gdańsk will be represented by its Management Board: Łukasz Greinke, Sławomir Michalewski and Kamil Tarczewki.
This year's edition includes debates on topics such as the future of the European and Polish economies, the new reality of global geopolitics, disrupted supply chains, and the global interdependencies changing before our eyes. This year, the Congress was held on 25-27 April.
Port Gdańsk is a partner of panel sessions dedicated to the position of Polish ports in international trade exchange and in Polish transport infrastructure. The port also took part in a discussion on global commerce and geopolitics.
CEO Łukasz Greinke spoke about the impact of the war in Ukraine on the operations of Port Gdańsk.
"A consequence of the Russians blockading ports in Ukraine is a desperate search for an outlet for Ukrainian goods, such as ore, corn and steel products. For our neighbours in Ukraine, we are now the first port of choice. The increasing cargo transfer volumes are visible in our results for the first quarter. The cargo volumes continue to increase, which has moved us up to position no. 2 in the Baltic".
Sławomir Michalewski discussed global commerce and geopolitics. "Over 75 per cent of international trade, especially from Asia, is done by sea. As a result of the war in Ukraine, we have to face a new situation. The food trade market, especially cereals, is reeling. Ukraine is an enormous supplier of corn and wheat to the global markets. At this moment, over 15 million tons of corn from the previous harvest lie in Ukrainian silos because Ukrainian ports practically do not function now. Normally they exported 5 million tons of grain every month – now it's only 500,000 tons. So we have a very serious situation. A shortage of grain is emerging in the markets, which in turn affects food prices. We're facing a major challenge. This is also an opportunity for Polish ports".
The discussions also concerned investments, intentions and plans for the future in terms of transport infrastructure.
"Transport system cohesion in Poland is significantly improving. I remember how in 2016, we had difficulties in moving cargo out of the port. Now, with a 2+2 road system, we can drive to our southern neighbours; there are no limitations. Additionally, the investment by PKP PLK ensures improved accessibility to the Gdańsk port. It is being done in parallel with the road and rail investment, under which we were building a new road and rail system to the largest deep-water terminals and has demonstrated the importance of cooperation. We needed to combine these projects together. The port would continue to operate, with the developments being conducted concurrently. Cargo transfer volumes have systematically increased, from 36 million tons in 2016 to 53 million tons in 2021. The prospects for this year are even better; they can reach 60 million tons. Neither 1 km of a road nor a km of wharf guarantee increased volumes, but they are investment anchors for businesses. Our job is to create opportunities, and this is what we're doing" – said Łukasz Greinke, CEO of Port Gdańsk.
The CEO recalled the developments crucial for the port's growth. One of them was the expansion of the internal transport system in the External Port, which involved connecting collision-free rail and car traffic to the deep-water transfer terminals. The other – which greatly improved the navigation conditions – was the dredging and widening of the fairway, and the construction of 5 km of wharves in the Internal Port.
"I observe very high interest in investing in our port, expressed by businesses from Western Europe. We still have over 100 ha of area left for lease. I encourage Polish entrepreneurs to take a closer look at this opportunity, to invest closer to the sea, in the largest Polish port housing the largest container terminal in the Baltic" – urged vice-president Sławomir Michalewski.
Contact for the media:
Anna Drozd – spokesperson for the Port of Gdańsk
e-mail: anna.drozd@portgdansk.pl
tel: (+48) 727 064 605