10.03.2021
The Port of Gdańsk is the first port in Poland to receive a PRS certificate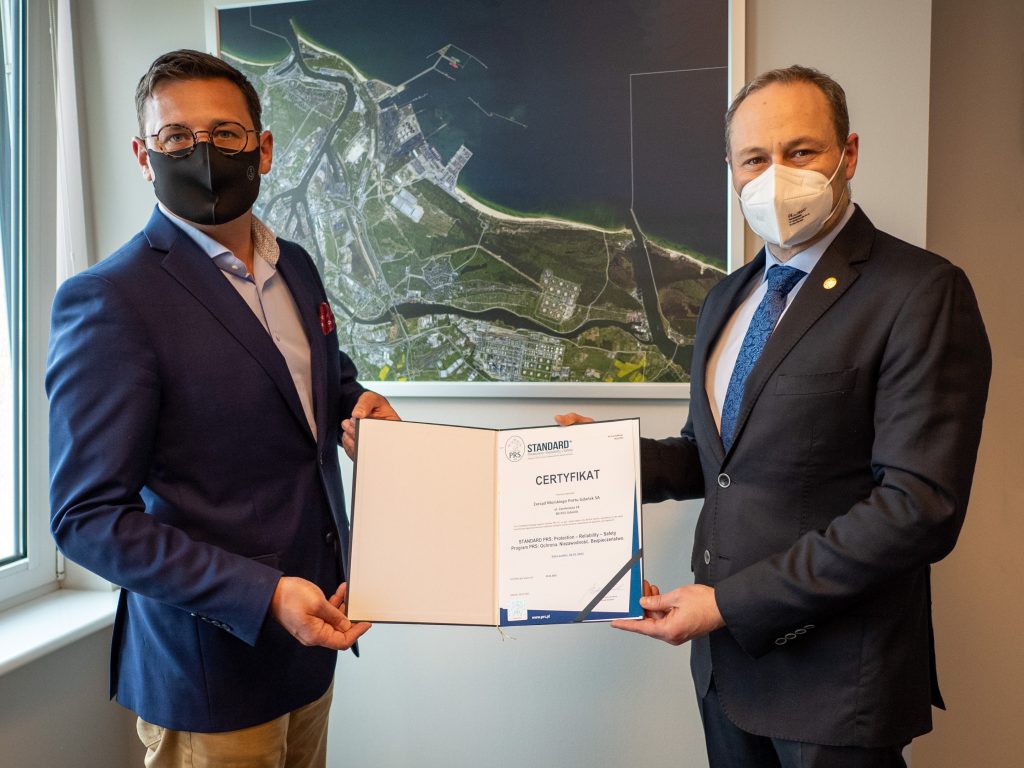 The Port of Gdańsk Authority SA has joined the group of organisations certified under the PRS (Protection – Reliability – Safety) Standard. The obtained certificate is objective evidence for the company, its customers and other interested parties that effective measures are taken to minimise the risk of infection, including prevention, and it confirms that the company is ready to respond in the event of an infection or an epidemic.
Implementation of the PRS program at the Port of Gdańsk Authority SA made it possible to take effective proactive and preventive measures against the occurrence of coronavirus infections. The next step was an audit to verify the degree of implementation of the PRS requirements.
"Since the beginning of the pandemic, we have remained a 100% operational port. We have put in place a number of security procedures and restrictions to keep our port operational. The obtained certificate shows that the introduced procedures are reasonable and also proves that we are aware of the responsibility for our common security. This certificate is objective evidence for us and our contractors that we take effective actions to minimise the risk of infections, including infection prevention, as well as of our readiness to respond in case of their occurrence", says Łukasz Greinke – President of the Port of Gdańsk.
The obtained certificate confirms that the implemented solutions are conducive to the overall improvement of the port of Gdańsk's resistance to the risk of infections, and proves the ability to meet legal requirements in terms of, among others, WHO guidelines.
"The cooperation of Polish maritime operators is heartening, all the more so because the very subject of the cooperation we are talking about here is not directly related to our industry. The Port of Gdańsk Authority SA confirmed that both its staff and clients can feel safe in the currently uncertain times as solutions have been put in place to control threats from various infectious diseases, including COVID-19. It should also be emphasised that the implementation of the standard ensures the continuity of the organisation's activities in the event of the occurrence of infections", emphasises Andrzej Madejski, President of PRS S.A. .
The Port of Gdańsk Authority SA is now entitled to use the certification mark certifying implementation of the PRS Standard. The resulting benefits include: maintaining business continuity in the event of the occurrence of infections, increasing the stability of the organisation's operations, minimising financial losses due to work stoppages, increasing the epidemic safety of contractors, increasing the organisation's credibility in the business environment and thus improving competitiveness on the market.
Media contact:
Anna Drozd
Press Spokesperson at the Port of Gdańsk
anna.drozd@portgdansk.pl
(+48) 727 064 605