14.11.2022
Port of Gdańsk with two awards in the 26th edition of the TOP 100 Pomorskie ranking, organised by 'Dziennik Bałtycki'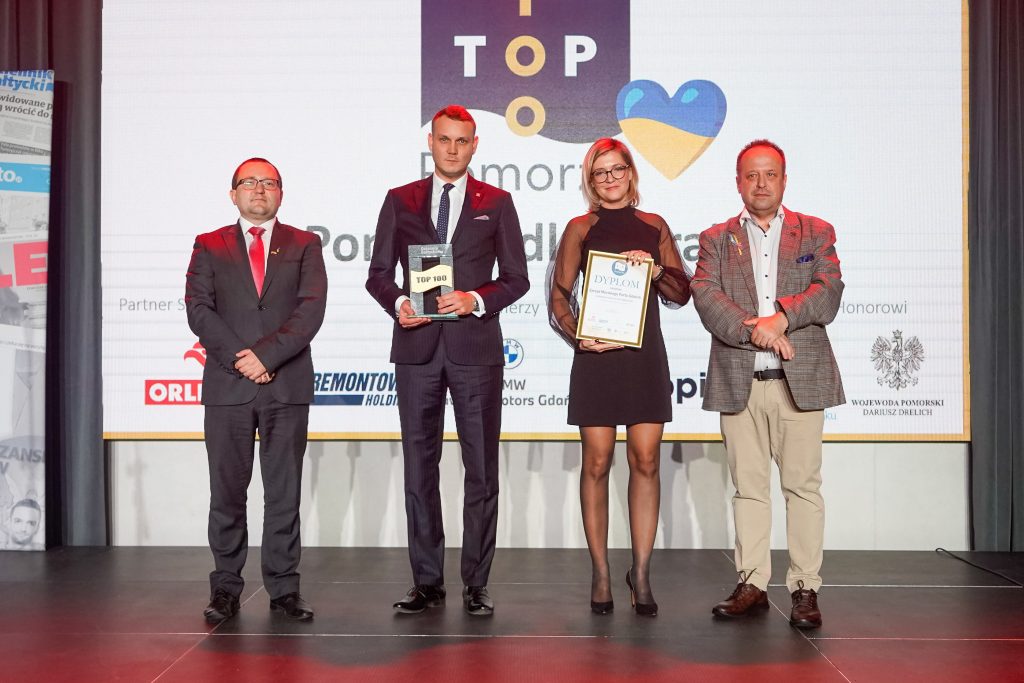 On the eve of Independence Day (10/11), the TOP 100 Pomorskie gala took place at the Radisson Blu hotel in Sopot, during which awards were given to the largest Pomorskie companies. The Port of Gdańsk received awards in the categories: 'Best Investor' and 'Pomorskie Business for Ukraine'.
TOP 100 Pomorskie is a ranking of the best and largest companies in the region. 'Dziennik Bałtycki' has organised it for the 26th time.
In the 'Pomorskie Business for Ukraine' category, five companies and organisations were awarded. Among those honoured was Port of Gdańsk. The award was also given to: Polish Red Cross, Hospice Foundation and Father E. Dutkiewicz Hospice, ZHP Chorągiew Gdańska and the Progress Group.
'Best Investor' is an award for the company that had the largest share of investments in revenue in 2021. The winner in this category was Port of Gdańsk Authority SA
'We are not stopping, we are undertaking further investments, we are announcing further tenders,' Kamil Tarczewski, vice-president of the Port of Gdańsk Authority SA, said during the gala. 'In recent years we have completed an investment programme exceeding one billion zlotys. We want to invest similar amounts in the future. All this to increase the competitiveness of the Port of Gdańsk and to meet the expectations that are placed on us.'
The award in the 'Most Profitable Company' category was presented to the Baltic Hub (DCT Gdańsk), the largest container terminal in the Baltic Sea, which operates in the Port of Gdańsk. The company has just started the construction of a third quay, which will increase the terminal's handling capacity to 4.5 million TEU per year.
The chapter of the TOP 100 Pomorskie competition comprised representatives of the largest Pomorskie business organisations, chambers of industry, technology parks, industry associations, the scientific community and the editorial board of 'Dziennik Bałtycki'.
Contact for the media:
Anna Drozd – spokesperson for the Port of Gdańsk
e-mail: anna.drozd@portgdansk.pl
tel: (+48) 727 064 605