24.04.2023
Another cruise season due to begin at the Port of Gdańsk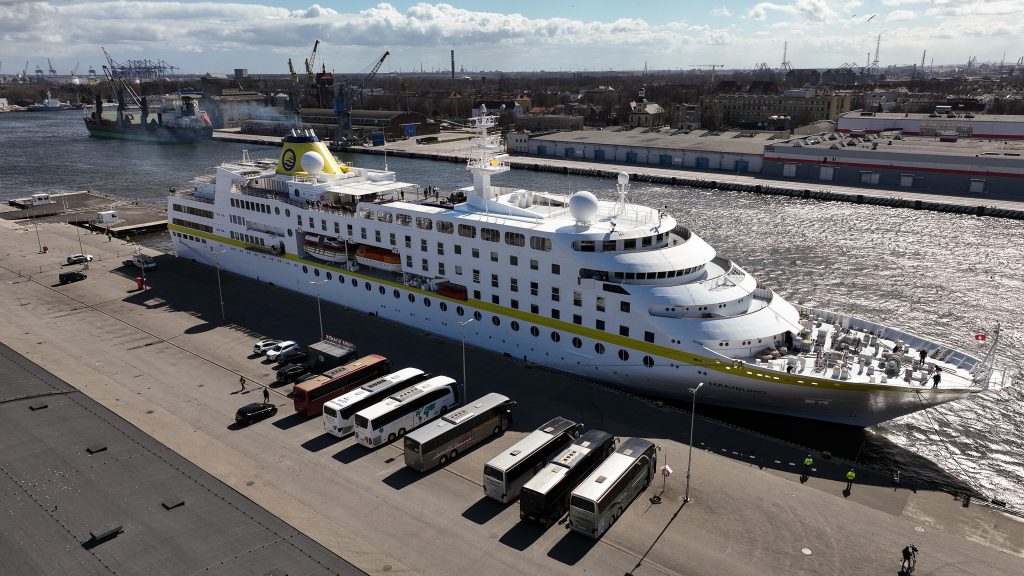 The first luxury passenger ship is going to dock this year at the Westerplatte Quay on Thursday, 20 April. It will be the "Hamburg," under a Bahamian-flag, which has visited Gdańsk many times. This year it is due to visit our port twice, including on 20 May. This cruise ship is 145 m long, 21.5 m wide, has a draught of 5.5 m and a GT of more than 15,067. It is able to take up to 420 passengers on board, and the scheduled arrival time is 11 AM.
Last year's season was very successful in terms of visits by people sailing around Europe and the world on luxury ships. The Port of Gdańsk saw a total of 79 visits by cruise ships between May and September, and carried a total of 29,500 passengers. The largest cruise ship to visit was the "Marina", at over 239 m long. The previous record-breaking year for visits was 2018, when the Port of Gdańsk welcomed a total of 67 vessels with more than 30,000 passengers on board.
This increased number of calls last year was due to ships bypassing the port of St Petersburg, following Russia's aggression against Ukraine. "Those vessels that annually entered St Petersburg were diverted to other Baltic ports. There were as many as 350 calls. Medium-sized ports, including Gdańsk, have benefited, but so has the port of Rønne on Bornholm, Klaipeda in Lithuania, Riga in Latvia and the port of Visby on Sweden's Gotland," explains Michał Stupak, client manager at the Port of Gdańsk.
This year, the number of cruise ships due to dock at the Port of Gdańsk is around 50. The longest vessel to arrive will be the Bahamas-flagged Bolette, at 238 m long. Her arrival is scheduled for 10 May. This season is due to end in an unusual way on 17 December, just before Christmas, when the Maltese "Hanseatic Nature", at 139 metres long, will arrive in Gdańsk.
The capabilities of the Port of Gdańsk are much greater. Theoretically, it can accommodate up to 120 cruise ships a year. All operations take place at the handling quays: Obrońców Westerplatte Quay, Oliwa Quay and WOC II Quay. This is why, when a passenger ship is staying in the Port of Gdańsk, it is necessary to set aside a safety zone for those who are directly involved in the operation of the ship.
The development of cruise shipping is influenced both by the geopolitical situation in the region and the involvement of local authorities and tourist organisations. "We need to convince cruise ship operators that the Baltic Sea basin is a peaceful and safe region. We need to be active in such organisations as Cruise Baltic and Cruise Europe, where we can present our commercial offer at trade fairs for Europe or the United States. In the light of the last trade fair in Miami, in which we participated, it is clear that what attracts shipping lines is the tourist offer of the port city. We want to show the potential of Gdańsk and the whole of Pomorskie. We have a great opportunity to take over tourists previously sailing into the port of St. Petersburg," adds Michał Stupak.
Gdańsk and the whole of Pomorskie is an ideal destination for tourists, not only from Europe, but from all over the world. According to the data from the Gdańsk Tourism Organisation and the Pomorskie Institute of Science, in 2022 Gdańsk was visited by 2,088,444 tourists, including 557,818 foreign tourists. Most came from Germany, Scandinavian countries and the UK. One of the most popular sites for visitors was Westerplatte.
The cruise ship notices are available on the Port of Gdańsk website. They can be found at www.portgdansk.pl/en/about-port/cruise-to-gdansk/notification-of-cruise-ships-2023/
Contact for the media:
Anna Drozd – spokesperson for the Port of Gdańsk
e-mail: anna.drozd@portgdansk.pl
tel.: (+48) 727 064 605