Treasures of the middle ages - Malbork castle
zamek w Malborku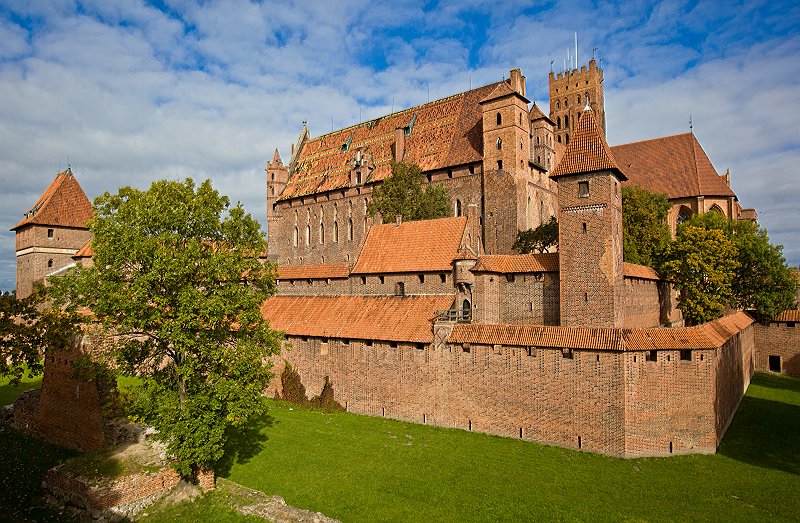 Less then 60 km away from the centre of Gdansk, at the nearby town of Malbork, the largest medieval castle in Europe is located, which is also the largest brick castle in the world. The castle, placed on the list of the UNESCO World Cultural and Natural Heritage Sites, made Malbork famous not only in Poland but also abroad. From the 13th century onwards, this formidable castle compound built on the Nogat river provided the headquarters of the Order of the Teutonic Knights, who in the 14th century relocated their seat here from Venice and established Malbork as the capital of the Teutonic state.
Its beautiful cloisters, mighty towers and numerous refectories and courtyards make up a castle compound with a total volume of more than 250,000 cubic metres. Each year, usually in the second half of July, a spectacular show "The siege of Malbork castle" is staged to commemorate the events of several centuries ago when the Polish and Lithuanian troops under the command of the Polish King Jagiełło captured the castle in Malbork. In honour of that occasion, the fortress becomes a stage to numerous hosts of knights clad in their glittering armour, beautiful horses, siege machines and huge banners, which together create a unique atmosphere taking spectators on a journey back in time to the 15th century. This event is accompanied by knights' tournaments, fencing and craftsmanship training, performances showing the knights' way of living, archery and horse riding tournaments, as well as a variety of other attractions.
Another interesting event is the light and sound performance staged everyday during the summer season and showing the castle's beauty and its unique value by night. Its cloisters, courtyards and chambers, illuminated with colourful lights can capture the imagination of even the most skeptical among the spectators.
The sightseeing of Malbork castle, due to its enormous floor area, may take a whole day that will undoubtedly remain a memorable experience to all visitors.