The walls that came down - the Solidarity route
śladem Solidarności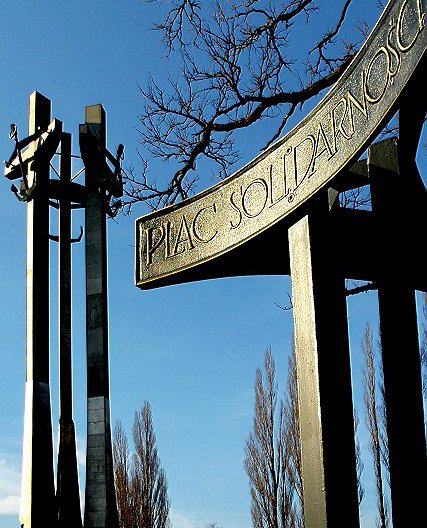 Poland, and especially Gdansk, gained its world-wide fame thanks to kick starting the collapse of communism in the countries of Central and Eastern Europe. It was especially in the 1980s that Gdansk became the arena for the Gdansk shipyard workers struggle for freedom, which was closely observed and seconded by the rest of the world. This itinerary's name – "The walls that came down" – is inspired by the song from Poland's famous bard of Solidarity, Jacek Kaczmarski. This song was regarded as an anthem of all those who identified themselves with the fight for democracy that was taking place in Gdansk.
The itinerary "Walls that came down" is designed as a step-by-step presentation of all the sights that more than 30 years ago bore witness to those memorable events. We recommend that this tour should be started at the Solidarity Square towered over by the 42-metre high Monument to the Fallen Shipyard Workers. Composed of three crosses with anchors attached, it was erected as a commemoration to the killing of the shipyard workers.  To date, the monument is one of the most important memorial places in Gdansk where high-ranking international politicians, presidents, heads of governments, royalty as well as the pope John Paul II all paid their tribute to the victims.
Behind the monument, Gate No. 2 is located leading to the grounds that have been partly opened to the public for the sightseeing of the Gdansk Shipyard. The main objects include the symbolic gates shaped as a ship's bow cut in half, a fragment of the Berlin Wall torn down in 1989 – a gift from the city of Berlin, a fragment of the Gdansk Shipyard wall, as well as a military armoured personnel transporter used by the communist riot police to disperse street demonstrations. The admission ticket, designed in the form of a ration card that made it possible to purchase food products, also includes the entrance to the famous former Health and Safety at Work Hall, which decades ago provided the venue for the negotiations between the shipyard workers and the communist regime. As a conclusion, we recommend a visit to the multimedia exhibition – Roads to Freedom – featuring a 1970s shop interior, the pen with which Lech Wałęsa signed the August Accords with the communist government and the ply-wood tables containing the hand-written demands of the striking shipyard workers – an item that has been listed as a UNESCO Memory of the World.