14.03.2022
The Port of Gdansk helps Ukrainians – humanitarian transport with, for example, medical equipment, which has reached Odessa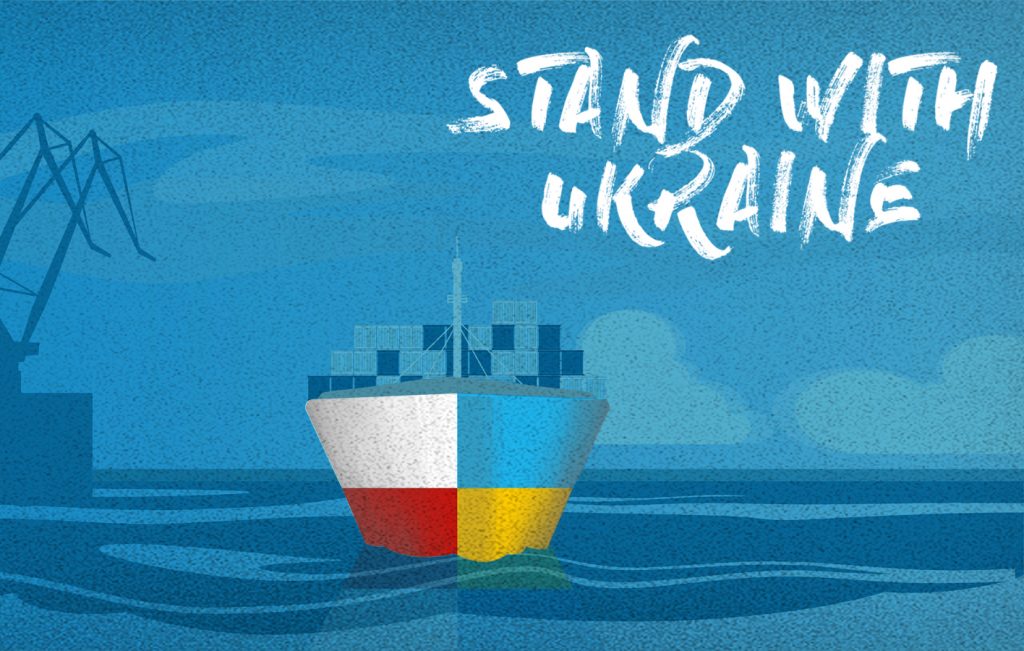 The Port of Gdansk Authority SA is involved in providing help to our eastern neighbours, who have found themselves in a dramatic situation. Purchased and delivered medical equipment, power generators, power banks and laptops to Odessa.
– As a result of the situation, I asked my Ukrainian friends, who are active in our sector, to specify their most urgent needs. We received a list of required medicines and medical equipment, including defibrillators and resuscitators, from the Ukrainian Ministry of Health. The Ukrainian Logistics Alliance (ULA), an association of freight forwarders and logistics and transport companies, as well as the Ukrainian Territorial Defence, asked for generators, power banks and laptops And, we started to act, so that the aid could reach Ukraine as soon as possible – reports Michał Stupak, a client manager at the Port of Gdańsk Authority SA.
The shipment set off from Gdańsk on the 4th of March. It reached Odessa after two days.
Gdansk and Odessa have a very long history of contact, dating back to the late 1990s. In recent years, our activity has increased, due to the plans of creating a Gdansk-Odessa transport corridor and signing a letter of intent between the Port of Gdansk Authority SA and the Ukrainian Sea Ports Administration, regarding mutual cooperation, in October 2020. Since then, port representatives have been exchanging knowledge and lessons learned, which are expected to optimise logistics chains in the future and thus increase cargo handling volumes.
– I have known Artiom Khachaturian, from a logistics company handling containers and ro-ro cargo, in the ports of Odessa and Chernomorsk, for 3 years, and Olga Zerkalova from Odessa, to whom we owe a lot, in terms of bringing Polish and Ukrainian businesses together, has been working with us for 5 years, while organising various transport conferences. We empathise with them, we cannot be indifferent – adds Michał Stupak.
Moreover, the Port of Gdansk decided to exempt Polferries SA from passenger charges. The ferries of Polferries transport Ukrainian refugees to Sweden free of charge, on the basis of documents shown. The authorities of the municipalities of Ystad, Trelleborg and Karlskrona, in the south of Sweden, as well as Nynaeshamn near Stockholm, where ferries arrive from Gdańsk, have increased their readiness. There, at the ferry terminal, a collection of donations for the Ukrainian people is being carried out by the Filippus organisation, in cooperation with the Polish Baltic Shipping Company (Polferries).
This is not the end of the Port of Gdansk's support for Ukraine. The Port of Gdańsk Authority SA has just signed a trilateral agreement with Caritas of the Archdiocese of Gdansk and Kador, a company that deals with industrial logistics on port grounds, including the production of transport packaging. – 'Kador has agreed to make its warehouse available to Caritas, where aid packages for Ukraine will be stored', explains Kamil Tarczewski, vice-president of the Port of Gdansk for infrastructure. – In light of the tragedy that has struck our eastern neighbours, it is our civic and moral duty to support them. The Port of Gdańsk Authority SA is a socially sensitive organisation, which is why we have made the decision to get involved in aid activities.
The current situation has meant that the support of Caritas of the Archdiocese of Gdansk is largely directed towards helping the citizens of Ukraine, both those residing in Ukraine and refugees who, fleeing a country at war, have come to our region. The most urgent needs of refugees include food with a long expiry date, personal hygiene products and cleaning products – says Rev. Janusz Steć – the Director of Caritas of the Archdiocese of Gdańsk. A warehouse will be used to store the collected gifts, which has been made available to us thanks to the kindness and goodwill of the Port of Gdansk and Kador. Meanwhile, the Caritas Crisis Centre, operating within Caritas, can, thanks to this warehouse, effectively mediate in the distribution of everything that refugees in our country and the fighters in Ukraine need.
The employees of the Port of Gdańsk Authority SA, the team of Port of Gdansk have also collected donations to help the Ukraine. At the reception desk of ZMPG, there is a collection box, where you can donate.
Soon, another shipment with gifts will be sent, this time to Kiev.
Contact for the media:
Anna Drozd – spokesperson for the Port of Gdańsk
e-mail: anna.drozd@portgdansk.pl
tel: (+48) 727 064 605