20.12.2022
'Santa's Factory' – a musical with the support of the Port of Gdańsk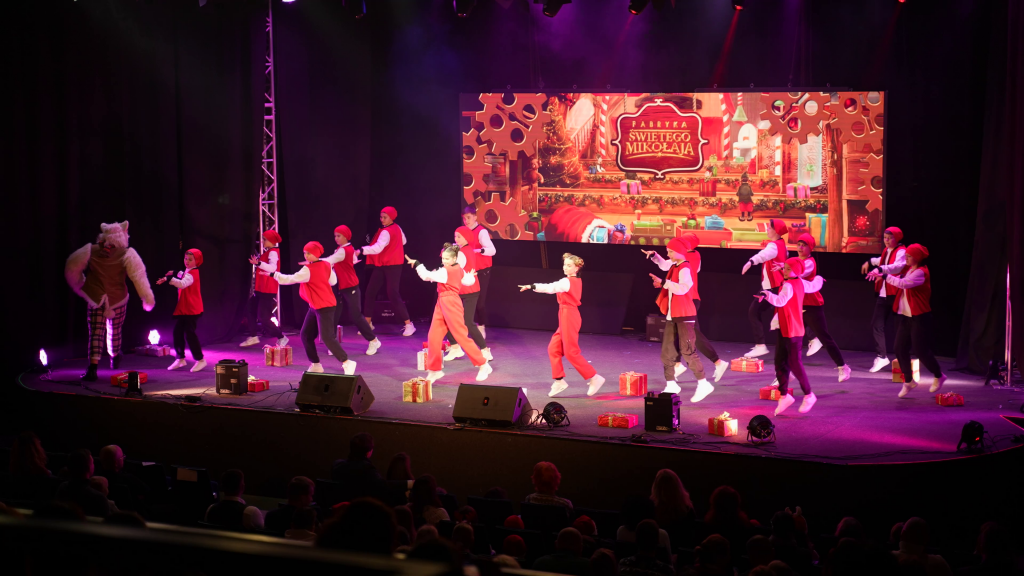 The Valldal comedy theatre from Gdynia and the Pavel Tabakov musical theatre have prepared a wonderful gift for Saint Nicholas Day, and not just for children. 'Santa's Factory' is one of the most famous of Ukrainian musicals. The Gdańsk premiere took place on 6 December at the NOT Theatre Stage. It delighted the Tri-City audience with its beautiful decór, costumes, dancing and singing.
But most important of all was the purpose behind the event. This is because all the proceeds from the performance were earmarked to support children who lost their parents as a result of the Russian aggression against Ukraine.
Two theatres – the Valldal comedy theatre from Gdynia and the musical theatre of acclaimed Ukrainian musician and composer Pavel Tabakov – joined forces to do something good together. As the artistic temperaments of the heads of both theatres are very similar, they were more than successful.
The 'Santa's Factory' musical, directed by Tabakov, was created in 2018 in Lviv. Its creator is well-known to Ukrainian talent show fans: he won 'The Voice of Ukraine' in 2012, the Ukrainian 'A Chance for Success', and was also a semi-finalist of the second season of the programme 'Ukraine's Got Talent'.
'When the war started, I arrived in Gdańsk where someone called me with the information that there was a theatre similar to ours. We decided to do something together. We united the talents of Ukrainian and Polish children. We also want to strengthen the friendship between our nations,' said the musical's creator.
Tomasz Valldal-Czarnecki, director of the Valldal Comedy Theatre, speaks in a similar vein. 'I found out from a friend that I have a Ukrainian counterpart. She told me that there is a guy who runs a musical school who has cool ideas and would like to do something fun in our country. I made contact with him', she recalls.
And that's how the fruitful Polish-Ukrainian partnership began. Ukrainian children learned Polish dialogues. And four Tri-City actors learned to sing in Ukrainian.
The event was made possible with the support of, for example, the Ukrainian Consulate in Gdańsk and the Port of Gdańsk. This made it possible to rent a hall in the theatre, sound equipment and lighting. It also made it possible to transport the children from Ukraine to Poland and back, as well as to accommodate and provide them with food.
'This is a beautiful and moving initiative, which we could not pass by indifferently. In this Christmas rush, let us remember about those most in need, in this case the children, for whom this Christmas will certainly be a very difficult time,' says Piotr Bura, Director of Marketing and Communications at the Port of Gdańsk.
Contact for the media:
Anna Drozd – spokesperson for the Port of Gdańsk
e-mail: anna.drozd@portgdansk.pl
tel: (+48) 727 064 605