01.09.2023
Port of Gdańsk invests in the road infrastructure with future contractors in mind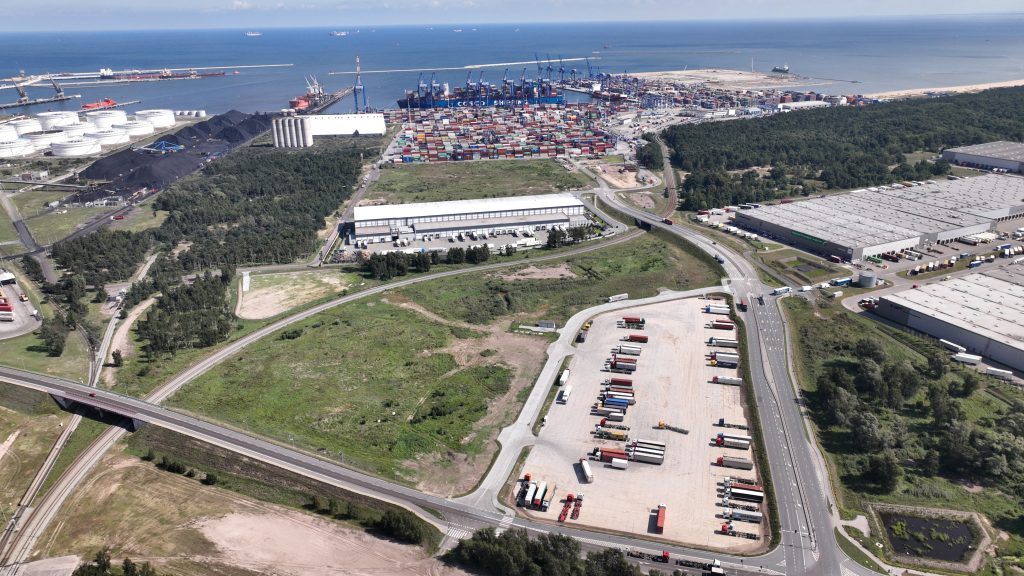 The Port of Gdańsk has completed the construction of an internal road together with a rainwater drainage system and utilities in the vicinity of the Balti Hub container terminal. Thanks to this investment, it is now possible to access attractive areas earmarked for commercialisation.
This concrete-surfaced road is approximately 350 m long and 7 m wide. It is located between Kontenerowa Street and Antoniego Grabarczyka Street. It has been designed to handle heavy traffic. It features six exits – two for each real estate to be leased. Within the scope of the task, comprehensive drainage of the road and areas intended for commercialisation was carried out – involving the construction of a gravitational and pumping rainwater drainage network, together with a pumping station and a retention and drainage reservoir, enabling the collection of rainwater and snow water from the newly constructed road and areas intended for lease. Importantly, the multi-discipline utilities (water mains, sanitary sewerage, electricity and telecoms networks) were also constructed.
"All with future contractors in mind, including those whose activities may require above-standard media requirements – e.g. temperature-controlled high-bay warehouses. We act to ensure that the Port of Gdańsk is ready for the growing needs of the market. Thanks to this approach, we have been the fastest growing port in Europe for several years. A tender will soon be announced for the lease of a 3.2 ha site, which has been developed and connected as part of this investment," explains Kamil Tarczewski, Vice-President of the Port of Gdańsk.
Thanks to this undertaking, it is possible to access attractive areas intended for commercialisation – the location of new handling and storage terminals in the Outer Port, in the immediate vicinity of the Baltic Hub container terminal. The task was carried out using the 'design and build' mode. The Agreement was signed in early 2021. The Contractor for the project was a consortium of two companies: Roverpol Sp. z o.o. and Rover Infraestructuras S.A. The value of the contract was PLN 12.8 million.