04.11.2020
Port of Gdansk Authority S.A. supports the team from Nowy Port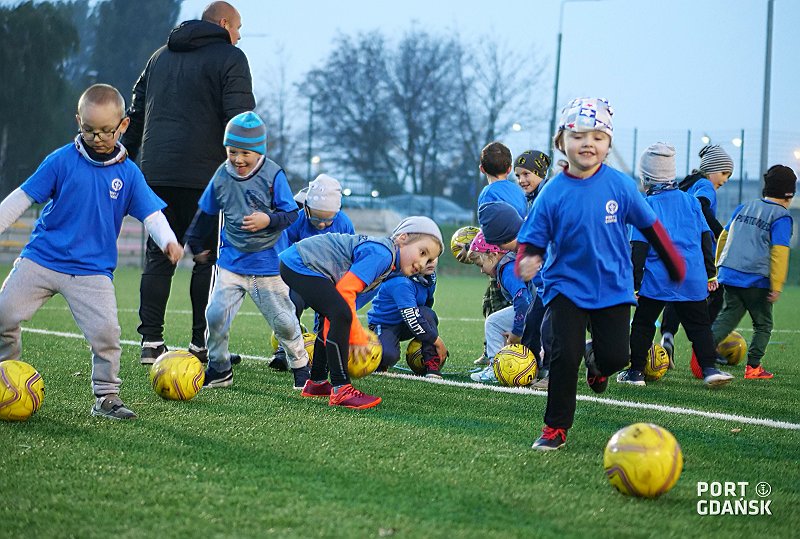 Port of Gdansk Authority S.A. invests in infrastructure and sees intensive growth. This is another step by the largest Polish port towards improving service standards, increasing competitiveness and further strengthening its position in the Baltic Sea area. Although today's port business is international in scope, the heart of the port still beats in Gdansk, in Nowy Port, a direct result of its location. Hence the decision by the Port of Gdansk Authority S.A. to support local initiatives, particularly those related to sport and children.
"Nowy Port is a beautiful district, and we feel a part of it. We want to be closer to the citizens and support their initiatives. We wondered how we could get more involved in the life of the district, and then we learned about Portowiec. The club was set up by locals and for locals, all thanks to a group of enthusiasts who devote their whole free time to the club. For now we are focusing on supporting the coaches, because they are the ones who bear the greatest responsibility. We have also purchased essential equipment and kit for the children," said Anna Drozd, spokesperson of the Port of Gdansk Authority S.A..
Portowiec Gdansk is a football club from Nowy Port with a long tradition dating back to 1957. Currently, children born in 2010-2016 can train for football there. The creators of the club say that "it is a small club, but one with great spirit".
"Sport shapes character and affects our health, which is particularly needed in this difficult time. We want it to be long-term support, so that the club can grow and the children have an alternative, one which involves spending time outdoors after school. We would like this initiative to be just the beginning of our support for the district, where the heart of the port beats," said Piotr Bura – director of marketing and communication at the Port of Gdansk Authority S.A..
Currently, Portowiec is recruiting for the new season. Training is for children aged 4-10 years, girls and boys. In total, this is about 60 children. In the future, this number is expected to double. Training takes place 3 times a week, in the stadium next to Zespół Szkół Morskich in Nowy Port.
"In 2008 I started thinking about creating a football school, and after being persuaded by Darek Glos, the Portowiec club was reactivated in 2009. We started recruiting children for the school. The number of candidates exceeded our expectations. We began working with juniors and at the same time created a team of seniors who, under Darek's leadership, were quickly promoted to a higher league. The club began to develop and our juniors were even promoted to the regional league, and then when it seemed that we could develop further, our lack of sponsorship and other decisions led to a crisis. In order to avoid dissolution of a club into which we had put such effort to reactivate it, I started talking to people who could replace us and lead the club. There were no volunteers, but then Dawid Głodek appeared and together we decided to rebuild the good reputation of Portowiec. We just needed a stable partner. The Port of Gdansk Authority S.A. reached out to us at that moment and offered cooperation," said Jacek Malko, the creator and coach of Portowiec.
"I am glad that history has come full circle and, just like years ago, Portowiec and the Port of Gdansk Authority S.A. have again become one family. I believed and hoped from the beginning, when in 2009 together with a few keen people, we reactivated the club after 40 years. This is extremely important not only from the sports aspect, but for me as a representative of the inhabitants of the district from the social aspect. Sport is one of the best tools to integrate inhabitants of all ages. It occupies the children's free time, teaches competition, fraternity and is an alternative, one spent with peers on the pitch. I am pleased that the Port has noticed this potential. Today, young people are already training with the Port of Gdansk Authority S.A. logo on their outfits. Both Portowiec and the Port of Gdansk Authority S.A. have anchors in their crest and logo. I believe that they will be inseparable and a new great story is being written," commented Lukasz Hamadyk – Chairman of the Board of Nowy Port District.
Media contact:
Anna Drozd
Press spokesperson of the Port of Gdansk
anna.drozd@portgdansk.pl
tel.: +48 727 064 605