The Polish Venice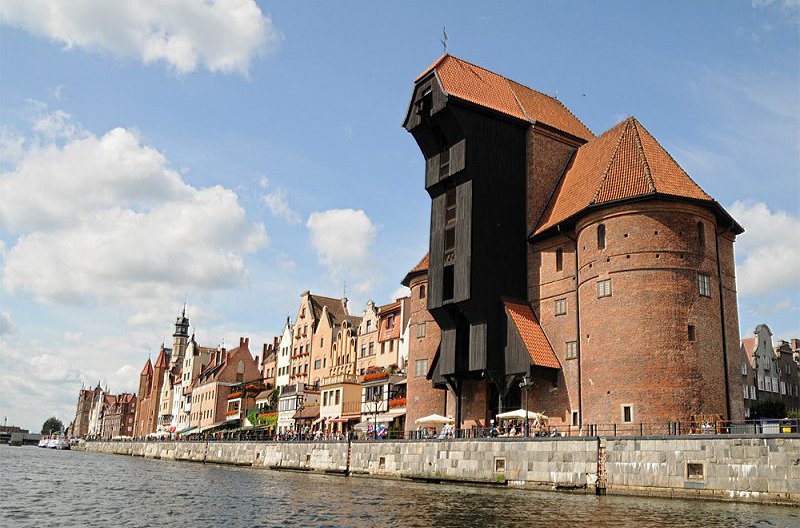 Leaving the Royal Route, immediately past the Green Gate, the fairy tale view of the Gdansk waterfront can be seen, with many historic houses perched on the Motlawa river, which can easily remind visitors of Venice. As is the case with the "city of gondoliers", the houses appear to grow out of the water which, especially in summer, is crisscrossed by pleasure boats and galleons packed with tourists keen to get a taste of a sea adventure.
Setting out from the Green Gate, from the very beginning our attention is drawn to the characteristic round-shouldered structure of the Great Crane emerging from the background, which until the 19th century was the biggest operating port crane in the world. It was right here that centuries ago the very heart of the port in Gdansk used to pulse. During the port's operation in the centre of the Old Town, all houses stood right on the Motlawa river. Today, the front walls of the buildings are separated from the river by a stone riverwalk called the Long Embankment. From the very beginning, the Crane played a double role of a defensive city gate and a port operating crane, powered by human muscle. Nowadays, the Crane is part of the National Maritime Museum in Gdansk and frequently visited mainly thanks to its interesting driving mechanism inside its structure. It is comprised of two pairs of step wheels trodden by erstwhile port workers who used to set the mechanism in motion, making it capable of lifting goods weighing up to 4 tonnes.
Opposite the Great Crane, the historic Granaries accommodate the National Maritime Museum presenting old Gdansk through the lens of its former flourishing and vibrant port city life. The museum is situated on Lead Island and can be reached from under the Crane by a ferry. Lead Island owes its name to the port granaries and warehouses that were located here and used for storing lead, among other goods.
Walking along the Long Embankment, we pass by the city's beautiful, historic water gates – Bread Sellers' Gate, St. Mary's Gate – opening onto St. Mary's Street leading to the magnificent St. Mary's Church – Holy Spirit's Gate, St. John's Gate, and Vendors' Gate, until we reach the scenic Swan Tower that closed the Main City.
A stroll along the river bank makes for great relaxation. It is lined by amber jewellery shops and galleries offering beautiful and unique amber works of art by renowned Gdansk artists and jewellers, and inviting passers-by to step in and buy the unusual items of amber jewellery. A step further, we can take up an offer to enjoy a cruise on the Motlawa river or to the scenic Hel Peninsula. A tasty meal while on a boat trip to the accompaniment of sailors' music is a must of any sightseeing itinerary in Gdansk.