Access to the port


The Port of Gdańsk, located in the heart of the southern coast of the Baltic Sea, is one of the key points on the logistic map of the world due to its geographical advantages. It is an important international transportation hub and plays a prominent role as a link in the Trans-European Transport Network no. 1 connecting Scandinavian countries with South-East Europe.
It is one of the best-connected ports in Poland, both from the water and land sides. In close proximity, there is the A1 motorway, which connects Gdańsk and Katowice, and the Gdańsk bypass. The location guarantees efficient distribution of goods within the country and abroad. Due to the completed road and railway investments, the delivery of cargo from any wharf to the network of expressways and motorways takes only a few minutes.

Hydrographic conditions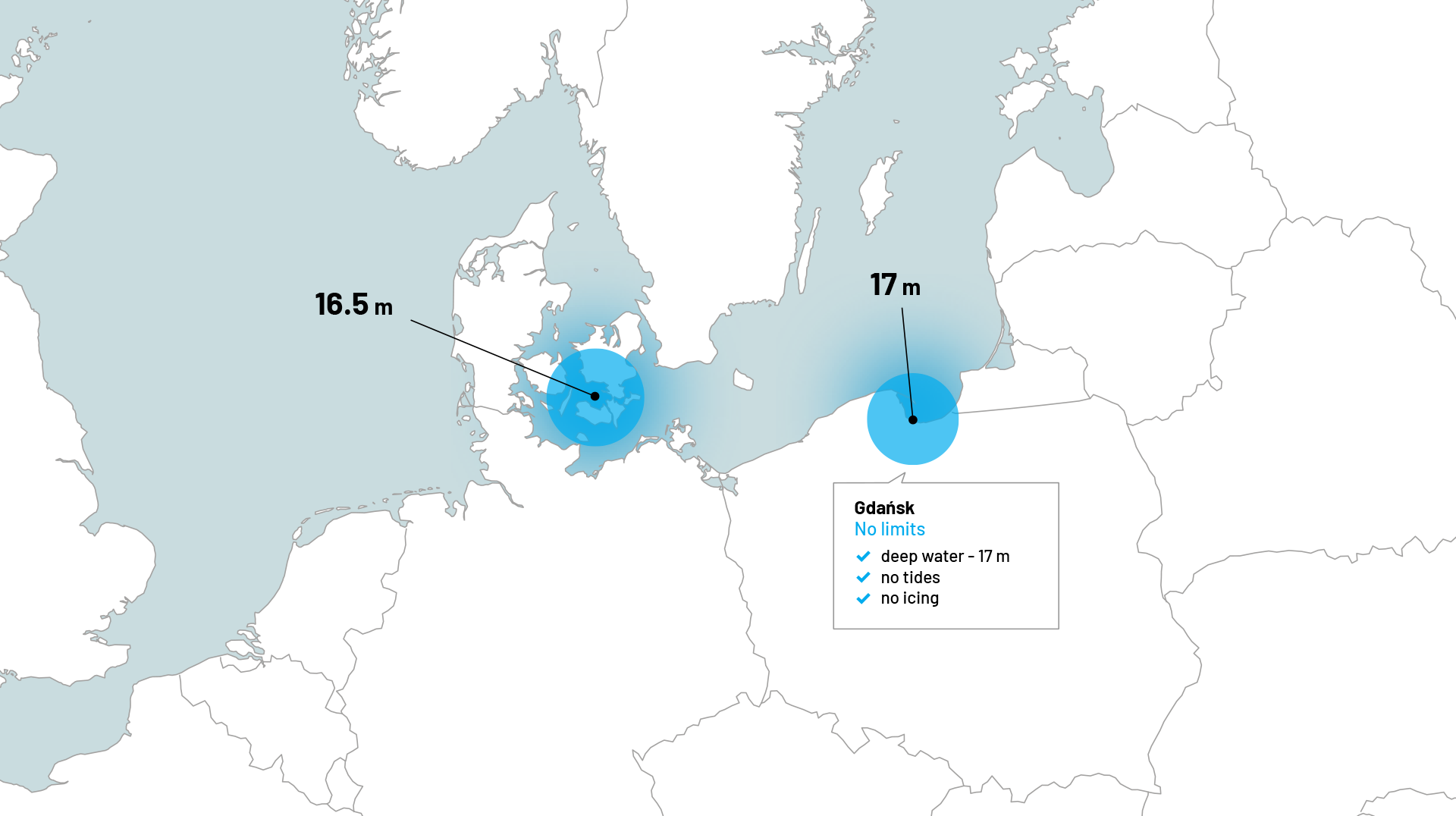 Rail and road access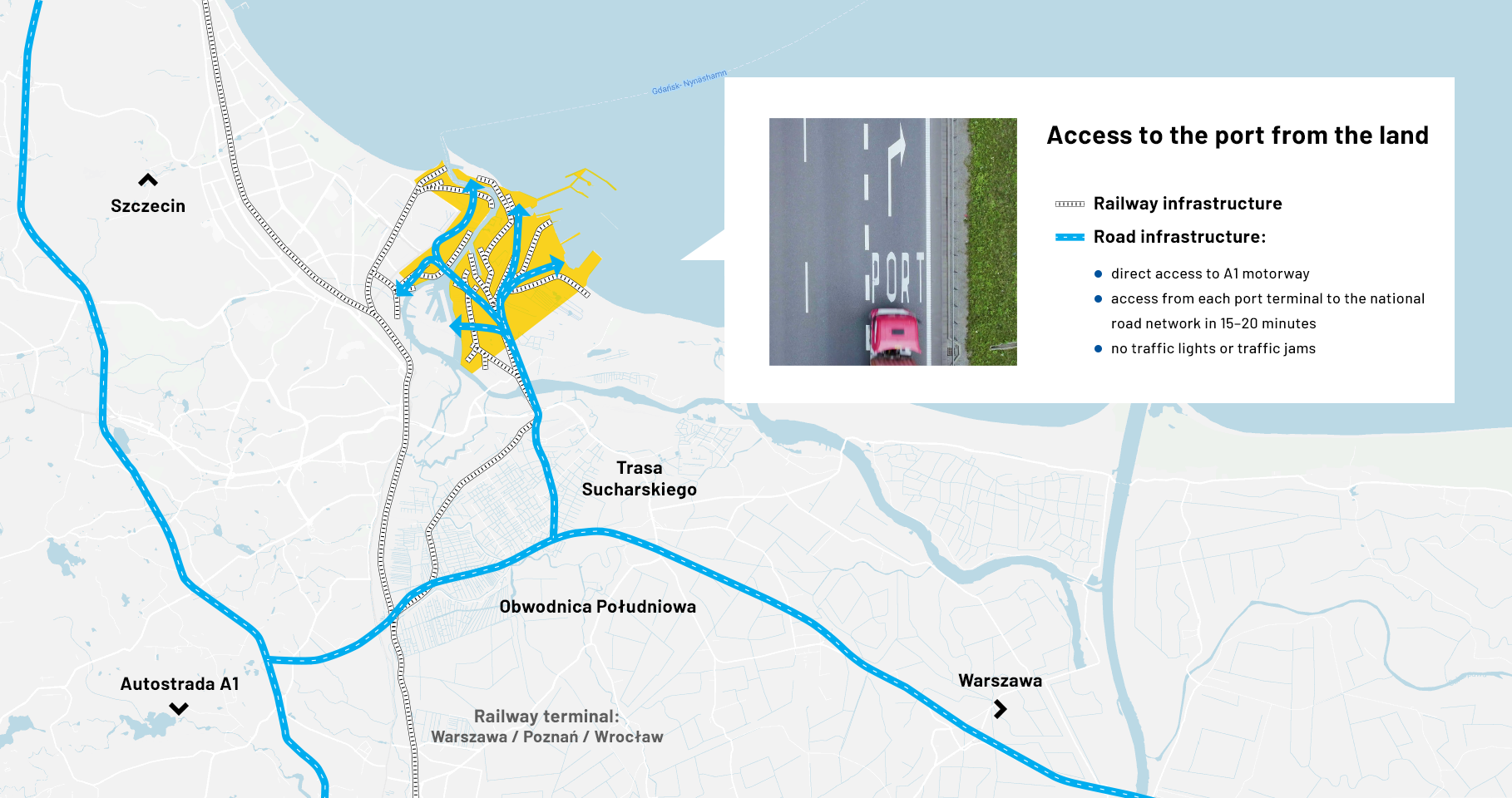 Access gates
Entry passes
Szanowni Państwo,
w dniu 1 kwietnia 2020 roku Zarząd Morskiego Portu Gdańsk S.A. wprowadza nowy program do składania wniosków przepustkowych.
W tym celu udostępniamy link do programu przepustkowego: https://swp.portgdansk.pl:44443
Elektroniczne Karty Przepustkowe zaczynają obowiązywać od 1 września.
W przypadku posiadania starej przepustki należy ją niezwłocznie wymienić.
W razie pytań prosimy o kontakt z Biurem Przepustek tel. 58 737 93 60; 58 737 93 80.
Informujemy, że Biuro Przepustek od dnia 29 maja 2018 r. /wtorek/ zostaje przeniesione do budynku przy ul. Na Zaspę 57, pok.2, potocznie zwanego budynkiem Straży Pożarnej, a będącego też siedzibą Biura Głównego Dyspozytora Portu oraz Ośrodka Ratownictwa.
Biuro będzie mieścić się na parterze. Nie będzie koniczności rejestracji i pobierania przepustek, żeby wejść do Biura. W nowej lokalizacji są też lepsze warunki parkingowe.
Biuro Przepustek pod adresem ul. Zamknięta 18 w dniu 28.05.2018 będzie nieczynne. Od 29 maja /wtorek/ w dni robocze Biuro Przepustek w budynku Na Zaspę 57 będzie czynne jak zwykle.
Zgodnie z postanowieniami oraz realizacją postanowień Międzynarodowego Kodeksu Ochrony Statku i Obiektu Portowego (Kodeks ISPS) oraz Ustawy o ochronie żeglugi i portów morskich na zarządzającym terenami portowymi spoczął obowiązek zapewnienia szeroko rozumianego bezpieczeństwa portu.
Zgodnie z uchwałą nr 29/2019 Zarząd Spółki Akcyjnej ZMPG S.A. w Gdańsku wprowadza z dniem 16 stycznia 2019 r. zmienioną instrukcję:
Zgodnie z zatwierdzoną procedurą obowiązują przepustki stałe, okresowe i jednorazowe, których wzory a także wnioski o ich wydanie zamieszczono w Instrukcji.
Instrukcja dostosowana jest do wygenerowanego Kodeksem ISPS i Ustawą o ochronie żeglugi i portów morskich, podziału terenów portowych z jednoczesnym udziałem osób odpowiedzialnych za ochronę w danym obiekcie portowym w procesie udzielania i opiniowania zezwolenia.
W miejscach zainstalowania systemu kontroli dostępu nadal obowiązują dodatkowo karty elektroniczne.
Jednolity system identyfikacji osobowej wymaga prowadzenia bazy danych zgodnie z przepisami ustawy o ochronie danych osobowych. Stąd konieczność osobistego wypełnienia wniosku o wydanie przepustki. Zdjęcia do przepustek będą wykonywane w siedzibie Zespołu Przepustek, pok. nr 1, ul. Na Zaspę 57, tel. (+48) 58 737 93 60, (+48) 58 737 93 80.
Customs and tax facilities